After No Change in Weight, Patient Gets Liposuction of the Neck in NOVA Office*
Procedure Details
This patient came into our office concerned with the appearance of her neck. She had spent many years experimenting with different diets and personal trainers but yielded no results in her trouble area. She took matters into her own hands after 5 years, and came into our Ashburn office in the heart of Northern Virginia, seeking out the help of Dr. Mountcastle and his staff. At her consultation, it was decided that the best treatment option for our patient would be Laser Lipo using the Precision TX laser. The patient was able to walk out of the office after her procedure, and could return to work the next day! The completion of her surgery took years off of her face and gave her a rejuvenated look of confidence!
More
Right Side View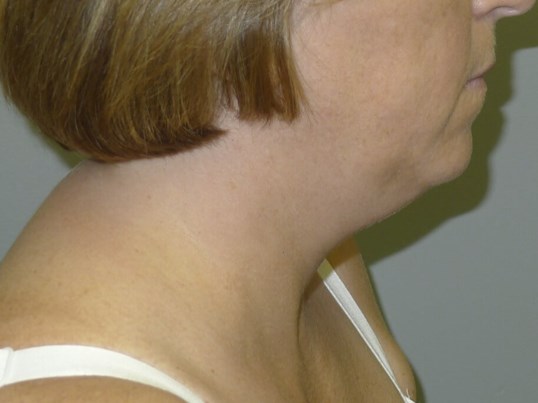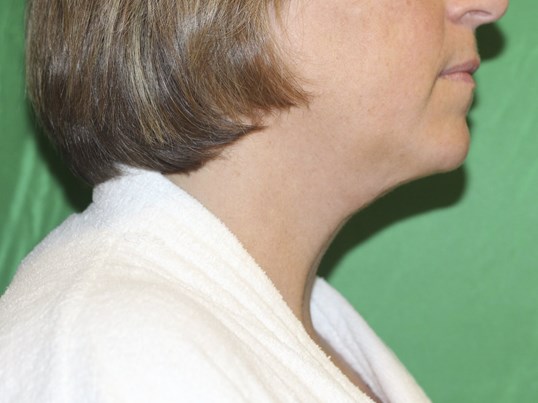 There are many patients who suffer from excessive fatty tissue deposits in the chin area. Many refer to this as a turkey neck or a double chin. Our patient struggled with this condition for many years until she trusted Dr. Mountcastle to provide her with the results she had been looking for! Just in this comparison of pictures you can see the huge difference the Laser Lipo made in not only reduction of fat but also making our patient look younger & healthier! More
Double Chin or Turkey Neck
The chin turns from one to two when you look down and hangs below your face like a turkey neck... These phrases are coined for a reason! Double chins are typically a hereditary predisposition and in order to be corrected must be addressed from a medical and surgical standpoint. Laser Lipo, or submental liposuction, is one of the ways we can treat this condition at our office. Kybella is another option and may be a good fit for some patients. Call today to schedule your consultation and see what treatments are right for you!
Location