Patients Undergoes Breast Reduction to Eliminate Breast Hypertrophy*
Procedure Details
Finally; a chest that fits her body frame! This patient had just celebrated her 30th birthday, happily beginning a new decade and chapter of her life. She decided it was finally time to combat a condition she had suffered with for many years; breast ptosis. She complained to Dr. Mountcastle that her large breasts caused her lower back pain, sometimes excruciating and acute. It discouraged her from working out and partaking in activities that would otherwise be easily accomplished. After going through the steps of all pre-op protocol, the procedure began at INOVA Fair Oaks Hospital promptly at 10:30 am. Dr. Mountcastle began by using 42 mm cookie cutters to size the areola down, following with a 10 blade that was used to create the new areola. A "lollipop" incision was made, and then Dr. Mountcastle performed the bulk of the reduction and lift. Our patient was extremely comfortable experiencing zero discomfort during the entire procedure while under general anesthesia and was able to go home that evening under supervision. Our patient was ecstatic with her final results, and was so relieved she no longer suffered from back pain due to her large breasts!
More
No More Ptosis!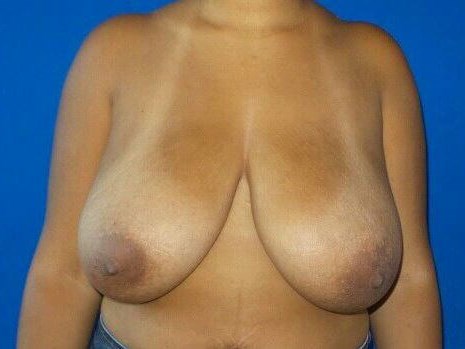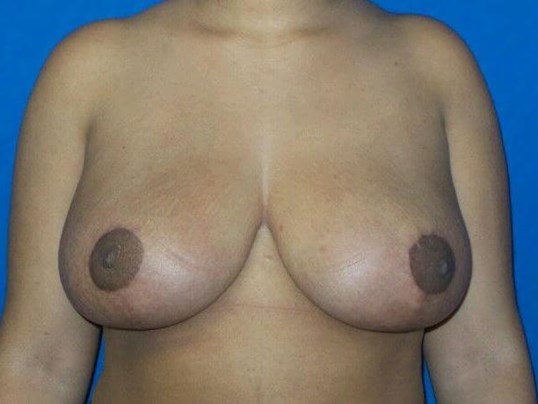 The breast reduction and lift was a beautiful success! Here, our patient is pictured before surgery and 3 months post-operatively. Now, her breasts are much more proportionate to her body frame, and the areolas are more petite to match her new and improved breast size. Scarring has improved drastically since surgery date, and will continue to improve with time in combination with the use of scar cream. She couldn't be happier from a cosmetic standpoint and comfort standpoint. More
Breasts Lifted and Lighter!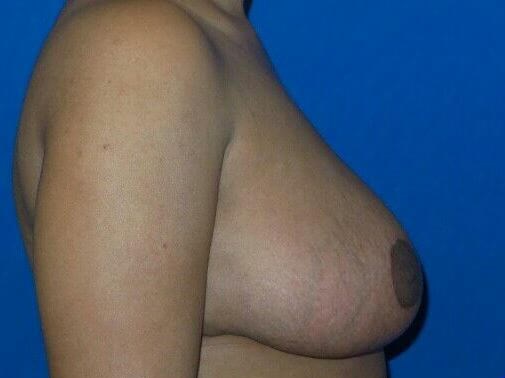 It is clear the breasts are much perkier and have a new youthful and rejuvenated look to them! She loves her new breasts from ALL angles! More
What is a Lollipop Incision?
This type of incision is one of three different types generally utilized during a breast reduction procedure. It is also referred to as a verticle lift, based on the way the incision is made during the procedure. The cut begins around the areola and then drops down to the bottom of the breast resulting in a "lollipop" shape. Not everyone is a candidate for this type of incision, but your double board certified plastic surgeon, Dr. Mountcastle, will advise you to ensure your surgery best suits your health and needs.
Location