Cyst Removal on Middle Aged Male on Left Cheek by Dr. Mountcastle*
Procedure Details
This patient was worried about what he explained as a "growth" on the side of his left cheek. After examination, Dr. Mountcastle determined the small mass was a sebaceous cyst. Some sebaceous cysts can become infected, which causes them to become painful, reddened, enlarged and inflamed. This simple excision was done right here in our Northern Virginia office, and the patient seen and taken care of in a timely manner. Upon returning for his post-operative appointment, the patient and Dr. Mountcastle were pleased with the results, and our patient understands scarring will continue to improve with time and using scar cream!
More
Treated Cyst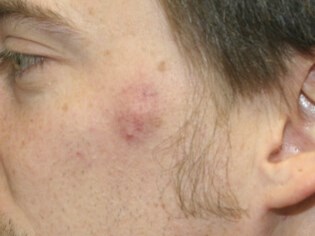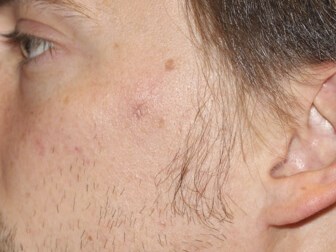 In the before picture, the patient's cyst is slightly inflamed and red. More
Sometimes these red, inflamed areas can be decieving on certain parts of the body. Patients sometimes ignore the area, like on the face, writing it off as a bad break out. Be mindful of new growths or changes on your body, and it's always better to be safe and get them checked out. Some minor issues can lead to much bigger medical problems down the road if you neglect to pay attention to your body. Dr. Mountcastle is always happy to give you a second opinion in helping maintain the integrity of your health!
Location