NOVA Patient of Dr. Mountcastle Has Large Cyst Removal with Outstanding Results!*
Procedure Details
This male patient came into our Ashburn office with complaint of pain on his right cheek due to a large mass that Dr. Mountcastle determined as a cyst. He had been bothered by the continual growth in size, and was referred by his primary care doctor to get it evaluated by Dr. Mountcastle. After the mole excision was completed in-office, the mass was sent to pathology to ensure it was not cancerous. After a negative result, our patient was relieved for the news and furthermore to have the burdensome cyst removed and healed. He was incredibly pleased with his result and we were thrilled to see it healed up beautifully. We encouraged the patient to stay out of the sun to avoid enhancing the scar, especially since it had healed up so nicely!
More
Like it was never there!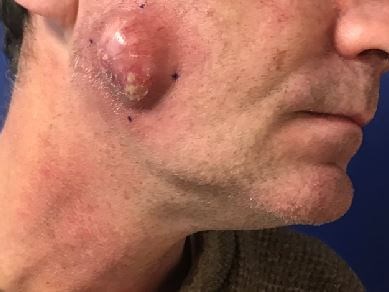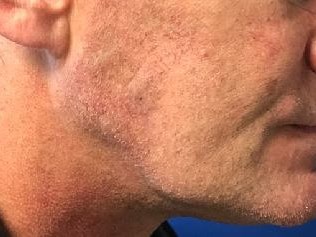 When comparing the two pictures next to each other it is difficult to see any scarring, but even more impressively the difference that the procedure made! Our patients face is completely healed and he was very glad he came to Mountcastle Plastic Surgery to have his cyst treated! More
Scar Creams and Avoiding Sun
After you have a cyst removed, similar to many other surgeries, it is recommended to take good after-care of the area. To achieve best results, Dr. Mountcastle in most cases suggests a good scar cream used consistently as directed, along with refraining from sun exposure. Our scar creams are sold conveniently out of our office, and we have a range of sizes depending on the size of the treated area. Ask us for more details in your next appointment!
Location