Cystic Acne Drains Healed & Clear Face for Patient with Case of Severe Acne*
Procedure Details
This patient came to Dr. Mountcastle in 2015 with a preexisting condition of Cystic Acne. She came in complaining of two large masses that were consistently growing to the right of her nose and on her right lower cheek. They were not only unsightly, but they were becoming uncomfortable for the patient. Before she would begin her acne treatment with her dermatologist, she was first referred to Dr. Mountcastle to have the cystic acne masses drained and healed. After the drains completely healed, she went on Acutane to get the acne under control, and prevent any future cystic acne from forming. Two years later we had the patient come back in to follow up, and her skin had made a remarkable improvement! She still continues to use acne medications to maintain the positive progress, and will consider future treatments in our Medspa that work in conjunction with acne prevention and treatment.
More
Drained and Healed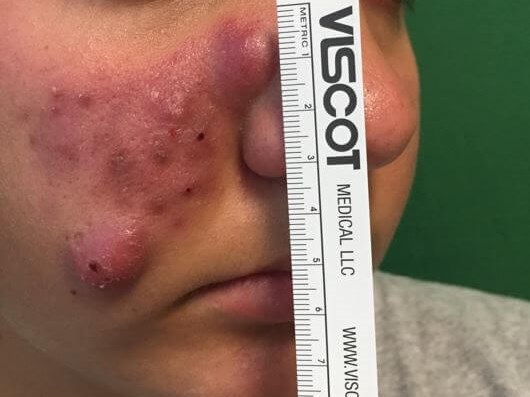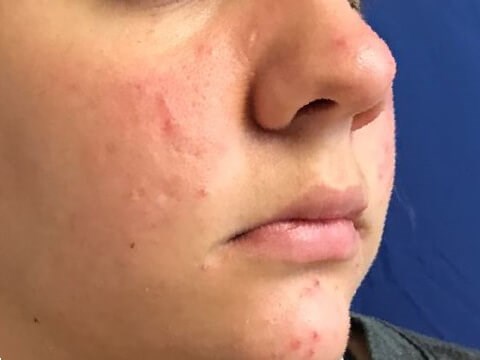 Our patient suffered from extremely severe acne on the face! You can see the improvement of color, texture, and overall appearance in her after photo. With the help of dermatologists and Dr. Mountcastle's expert care, our patient came back 2 years later with remarkable improvement and feeling confident as ever! More
There are many different treatments for acne, that all vary based on a wide range of determining factors. Often times, utilizing several treatments in combination allow for the most optimal results. Our patient here is an excellent example of utilizing different medical professionals and treatments to yield the best results. Once she begins treatment in the Medspa, other cosmetic problems like scarring and skin texture can improve by taking advantage of the procedures such as chemical peels, IPL, microneedling etc.
Location