North Virginian Man has 15 x 10 cm Lipoma Removed With Local Anesthetic*
Procedure Details
This 32-year-old male patient visited our double board-certified plastic surgeon, Dr. Timothy Mountcastle, and presented him with a very large lipoma that he wanted removed. The benign tumor measured 15 x 10 cm, which was a giant, noticeable growth located on the chest and shoulder. The patient was concerned with the lipoma's size, which could be seen with or without a shirt on. Dr. Mountcastle performed the excision in 30 minutes at Mountcastle Plastic Surgery and Vein Institute using a local anesthetic and cosmetic mini incisions. Once the tumor was removed, Dr. Mountcastle closed the area with a cosmetic layered closure using absorbable sutures. This patient's chest and shoulder blade was a noticeably different shape post-operation, and he was very pleased with the results.
More
Left Shoulder 15x10 cm Lipoma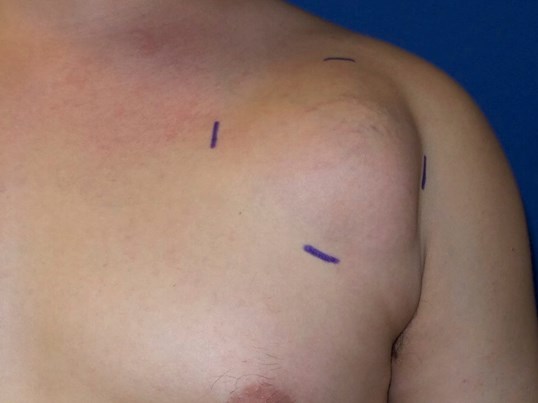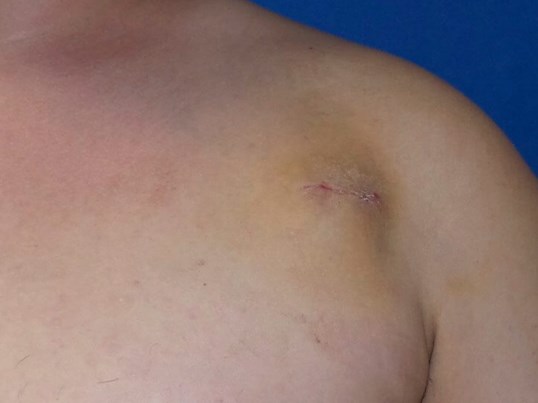 These before and after pictures show a lipoma removal performed by Dr. Timothy Mountcastle at his Northern Virginia plastic surgery office. The tumor, which was 15 x 10 cm in size, was excised in 30 minutes under a local anesthetic. More
Visit our office in Ashburn, VA for your lipoma removal consultation with Dr. Mountcastle. We perform lipoma excisions on-site in our state-of-the-art surgical facility with is certified by the American Association for Accreditation of Ambulatory Surgical Facilities (AAAASF). Call today and speak with one of our friendly patient coordinator to schedule your consultation.
Location