Woman in Northern Virgina Has Cosmetic Mole Removal*
Procedure Details
Northern Virginia plastic surgeon, Dr. Timothy Mountcastle, sees patients for cosmetic dermatology concerns. This female patient came to Dr. Mountcastle because she was bothered by a mole under her right eye. She complained of the mole sometimes interrupting her view, and she no longer wanted to deal with it on her face. Dr. Mountcastle used a surgical excision technique to remove the mole and used sutures to carefully create a clean, scar, which is almost unnoticeable. Once the sutures were removed, our patient was very pleased with her results. While countless men and women have moles, when they are visible and prominent, such as in our patient's case, mole removal surgery can help eliminate the concern.
More
Mole Removal Surgery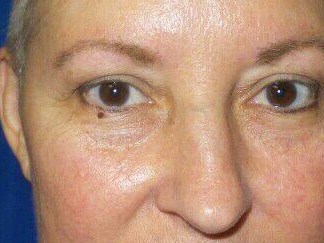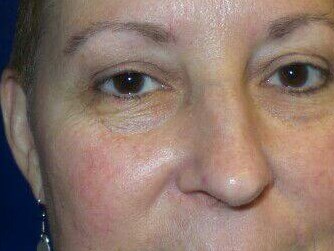 Cosmetic mole removal can successfully remove unwanted moles that are considered bothersome and aesthetically unappealing. In the after photo of our patient, it appears that the mole never existed at all and there is no visible scarring. While dermatologists can perform mole removal, a plastic surgeon, such as Dr. Mountcastle, will ensure that scarring is kept to a minimum and that the aesthetic result is pleasing. More
Remove Your Unappealing Mole
Mole removal surgery is an in-office procedure offered by Northern Virginia plastic surgeon, Dr. Timothy Mountcastle. He uses a variety of techniques to remove the mole, depending on where it is located, as well as how large it is, and its depth. The results can often give patients their confidence back. There is no need to worry about a bothersome mole and we are here to help. Please call our plastic surgery office to learn more and schedule your consultation.
Location