NOVA Man Has RF Ablation and Ambulatory Phlebectomy for Varicose Vein Removal*
Procedure Details
Our patient not only had visible varicose veins that he was embarrassed by, but they were becoming painful, interfering with daily life. After much contemplation, he visited Dr. Mountcastle in our Northern Virginia vein institute and a custom treatment plan was created to remove and eliminate this condition. Dr. Mountcastle took a 2-step approach, first using radiofrequency ablation with Vnus Closure, and then using small incisions to surgically remove the veins. This is called an ambulatory phlebectomy and is used in cases where the varicose veins are considered severe. After 3 months, the after photos show incredible improvement. The large bumps, bulges, and unhealthy vein appearance is gone, leaving a natural, smooth result. Our patient looks and feels ten times better and is so thankful for his results!!
More
Healthy, Natural Results!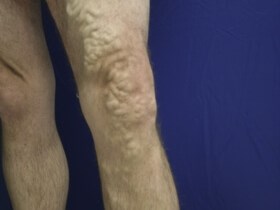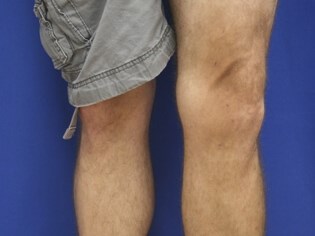 Varicose vein removal surgery was worth it for our patient. His leg looks and appears so much healthier than before his procedure. He is proud to now wear shorts and can live an active and pain-free life thanks to Vnus Closure and the latest advancements in vein removal treatment. More
Treat Your Varicose Veins
Northern Virginia plastic surgeon, Dr. Timothy Mountcastle, is a vein surgeon and vein removal expert, treating both spider veins and the most complex varicose vein cases. If you have unsightly veins, or veins you feel are bothersome or painful, please call our clinic today to learn more and to schedule your consultation.
Location