Enhance Your Breast Size While Slimming Down
Have you ever wished for a slimmer body and enhanced breasts, without inserting either saline or silicone implants into your body? Are you wishing that you could take the fat from your hips, thighs, abdomen or even your buttocks and move it to your breasts? Well, there is a type of breast augmentation surgery using your own fat that can accomplish that outcome. Using liposuction, Dr. Mountcastle can harvest fat cells from one area of your body and use the fat to increase your breast size and improve breast shape, without breast implants in one of the Northern Virginia hospitals.
If you are looking for a fuller, more natural shape to your breasts and are interested in fat grafting breast augmentation, Dr. Mountcastle can assist in answering all of your questions and explaining the entirety of the procedure, as well as the risks and benefits. Call us today to schedule your consultation with Dr. Mountcastle in one of our Northern Virginia offices and enhance your breasts, all while slimming down your figure!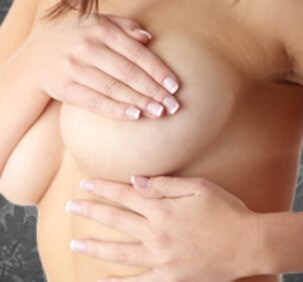 Breast Augmentation with Fat Transfer FAQs
My own fat can be used for breast augmentation?
Yes, a fat transfer breast augmentation utilizes liposuction to take fat from one or two areas of your body and injected into your breasts.
What are the benefits to fat grafting breast augmentations?
While not everyone is an ideal candidate for fat transfer breast augmentation, it does have several benefits:
Safer alternative to saline or silicone breast implants as fat is a completely natural substance
Harvesting of the fat can be used to enhance your shape
Can assist in enhancing breasts in cases where an implant is not necessary
The breast can be sculpted and shaped
Good alternative for women who want a subtle augmentation rather than going up several sizes
There is never a risk for implant rupture
Are there any downsides to fat grafting breast augmentations?
The fat grafting breast augmentation surgical procedure is much longer than that of a breast augmentation with implants. The harvesting of the fat via liposuction can take somewhere between 2-3 hours because the liposuction for fat transfer is a bit different than traditional liposction. Because the fat cells must remain intact so that they can survive in the breasts, they must be carefully removed from the donor area of the patient's body. Therefore, Dr. Mountcastle must utilize a liposuction technique that utilizes low pressure. The fat is then carefully injected into the breasts where it is sculpted and shaped by Dr. Mountcastle's artistic eye.
Also, not all patients are viable candidates for the fat grafting breast augmentation procedure. Unfortunately, there are some patients that do not have the required amount of fat in order to achieve a size that cause a noticeable difference.
This procedure is also not recommended for those seeking a large increase in cup size.
What can I expect in terms of results of the fat grafting breast augmentation procedure?
Most patients can expect to retain anywhere from 50-80% of the transferred fat. The fat that does successfully take is permanent. Fat transfer breast augmentation will give your breasts a softer, more natural shape and a trimmer, slimmer area of the body where the fat was harvested.
Am I a candidate for fat grafting breast augmentation?
If you have a medical condition that has affected the size or shape of your breasts are if you are simply dissatisfied with your breasts and would like a slight increase in your breast size, you may be a likely candidate. The best candidate for a fat transfer breast augmentation is a person who is in overall good health and has realistic expectations about the results that can be achieved with this procedure.
An increase of one cup size is generally attained with one session of fat grafting. For those seeking a larger increase in breast size, more than one fat grafting breast augmentation surgery may be required.